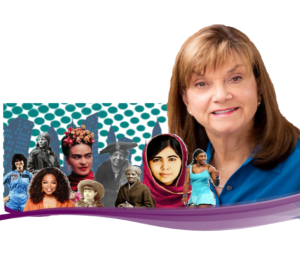 The Empowerment Dinner & Celebration is our annual our gala event honoring a community member for his or her continued commitment to empowering survivors of abuse through philanthropy and activism. Attendees enjoy a cocktail reception, a world-famous Frankenmuth dinner, silent auction items, raffles, and a special awards ceremony.
SPONSORSHIP OPPORTUNITIES AVAILABLE!
Underground Railroad, Inc. has named Barbara Boggess its 2021 Empowerment Award Honoree. The annual recognition is presented to an extraordinary community member, who is committed to empowering survivors and eliminating abuse in Saginaw County. Boggess will be celebrated at Underground Railroad's Empowerment Dinner & Celebration on October 6th at the Bavarian Inn Lodge and Conference Center.
Boggess's interest in advocating for survivors began forty years ago as a volunteer answering crisis calls for the Bay County Women's Shelter. The following year, she was offered the position of Women's Advocate for Underground Railroad, one of only three paid positions at the time. In addition to serving clients, Boggess lobbied for laws and advocated not only for survivors, but for the growth and sustainability of service agencies like Underground Railroad in the State of Michigan. Eventually, she was offered the position of Executive Director for Underground Railroad, which she held until 1988.
The same year, Boggess relocated to Richfield, Utah, north of Zion National Park. There, she founded New Horizons Crisis Center, a safe house and support offices for domestic violence survivors, and those experiencing homelessness. After moving back to Michigan, she joined the founding board for United for Kids Child Assessment Center to help secure equipment and resources. In this time, Boggess also wrote and secured grants for her children's schools.
More recently, Boggess served as board member for Underground Railroad, and was a member of the committee that spearheaded the very first Empowerment Dinner & Celebration in 2015. She continues to lobby and advocate for women, children, and the underserved of our country, attending rallies and Women's Marches in Lansing and Washington. D. C.
Boggess is a Michigan State Master Gardener, providing 15 years of volunteerism for the roses at Dow Gardens. She is also a member of the West Highland White Terrier Club of America and of Michigan, and the Westie Rescue Club of Michigan, through which she has rescued and fostered many dogs adopted to new families. As an avid reader, Boggess's book club provides constant mental nourishment and comradery.Boggess's family includes her supportive husband, Brent, four accomplished and thoughtful adult children – Ben, Amanda, Scott, and Olivia – two bright and loving daughters-in-law, and three joyful granddaughters.